Marimekko's flower power
" Mari-Mari-mekko's Unikko " –by Mandi Keighran … at N by Norwegian http://wp.me/pYMOY-2iE 
A symbol of Finnish design, Marimekko's poppy print celebrates its 50th anniversary this year. We take a look at the history of the world's most famous pattern
Text by Mandi Keighran / Photos: Johannes Romppanen & Tuukka Koski
Marimekko's Unikko print might just be the most recognisable textile pattern in the world – a field of boldly impressionistic poppy flowers that adorns anything from bedding, clothing and shower curtains to buses, Volkswagen Beetles, and even a hot-air balloon. The famous pattern celebrates its 50th anniversary this year, with a host of celebrations planned. However, if it weren't for the defiant spirit of its creator, Finnish designer Maija Isola, Unikko would never have been – in fact, none of Marimekko's thousands of floral patterns would exist.
It's a surprising realisation given the pervasiveness of the pattern in Finland and around the world. In Helsinki, it's nearly impossible to avoid the poppy. Wander down Esplanadi, Helsinki's upmarket main shopping street, and you'll find Marimekko's flagship store – a huge, two-storey, glass-fronted space, whose ground floor is entirely dedicated to Unikko. Even the walls and floors sport enormous psychedelic impressions of the poppy. Around the corner is the newly opened store for children, where Unikko in miniature can be found on everything, from backpacks, baby bibs, and beanbags to jumpsuits for newborns. At Spis, an upmarket restaurant leading the way in the city's food scene, you'll find Unikko on the hand towels in the bathroom, and at café Marikahvila in the Galleria Esplanadi, you eat your meal from poppy-themed tableware. With fans that range from Anne Hathaway to Kim Kardashian, it's clearly a pattern with wide appeal.
To some, this kind of adoration of a simple floral pattern might be bemusing. Yet, there's no denying the cult-like appeal that Unikko holds for millions around the world. Marimekko fans – particularly those from Japan, where the brand is hugely popular – frequently make the pilgrimage to the company's headquarters and factory. Stepping into these headquarters, located just outside the centre of Helsinki, is akin to stepping into an alternate universe in which grey doesn't exist and everything is bright, graphic, and happy. Here, the cult of Marimekko is apparent everywhere: dozens of fans eat lunch from Unikko-patterned tableware with Marimekko-clad employees at the in-house restaurant, Maritori (which translates as "Mari's Market"), shop at the cavernous outlet store, and tour the production facilities, where over a million metres of fabric is printed each year. Everywhere you look, there are installations showcasing entire bedrooms, living rooms and dining settings in Marimekko patterns. Just where did all this Marimekko madness begin?
Marimekko has its origins in Printex, a company founded in Helsinki in the late 1940s by Viljo and Armi Ratia when the couple's failed oilcloth company was converted into a textile factory. It was the aftermath of World War II, and Armi wanted to bring colour to the everyday lives of Finns who were recovering from the economic and social effects of the war. "
…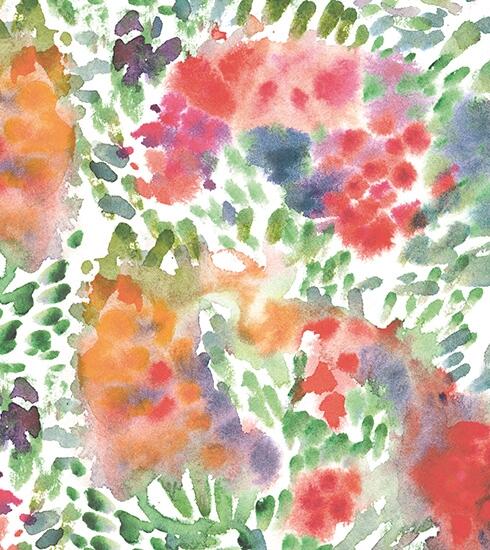 A special anniversary website has been set up, and around the world Unikko "pattern places" – unexpected spaces that could house anything from a café to a gallery – will pop up. Then there are the special editions – new colourways and scales for the pattern, plus a host of limited edition products adorned with the poppy, and a summer 2014 fashion collection that puts the focus on Unikko.
"We want to bring an injection of positivity and energy into people's everyday lives," says Alahuhta-Kasko of the celebrations. "The story of Unikko has acted as a symbol of the freedom and power of expression and creativity. Maija Isola decided to follow her heart despite the rules, and eventually this poppy became the icon of our brand."
Stay tuned for our round-up of the restaurants in Helsinki giving New Nordic cuisine a Finnish twist.
Norwegian flies to Helsinki from more than 30 destinations. Book flights, a hotel and a rental car atnorwegian.com